Tennis lessons with tennistar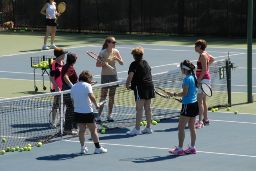 INSTRUCTOR

PRIVATE
SEMI-PRIVATE (1hr)
GROUP (3+)
Head Pro
$105/hr
$60/person
$40/person
Lead Pro
$100/hr
$55/person
$40/person
Onelife Fitness Bethesda
4400 Montgomery Avenue
Bethesda, MD 20814
Onelife Fitness Bethesda has one air-conditioned indoor court as well as 4 outdoor, rooftop courts.
Fees for tennis lessons at Onelife Fitness vary according to the instructor involved. For more information or to schedule an appointment, e-mail Rena Shi, Tennis Director, at tennistar.rena@gmail.com, with your name, the student's name, age, ability level, and your contact numbers. Indicate whether you are interested in a private or group lesson, and if you have a specific instructor and day or time in mind. Find information about our junior and adult clinics online here.
Georgetown Visitation
1524 Thirty-Fifth Street NW
Washington, DC, 20007
Lessons are not being offered at this location in 2022.