TenniStar Summer Camp

For Boys & Girls, Ages 5-16
TenniStar is gearing up for summer 2022. Campers stay cool and dry on our indoor, air-conditioned court and also enjoy playing outdoors on the rooftop courts. Instructor ratios are kept low to maximize instruction!
Kids will be split up into groups based on level and age.
To find out more about our advanced junior summer player program, scroll down!
For our youngest campers, age 5-7, we offer stroke development & fun drills to help them learn the game in the morning. After lunch, they dive into other sports and activities.
To register click on the appropriate week and time of day in the table below. Complete the brief enrollment form and pay instantly online.
We are not able to give refunds within two weeks of the scheduled camp session.
---
2022 TenniStar Camp Schedule
Register today for our tennis summer camps at Bethesda Sport & Health
Date

Morning

9am-12pm

All-Day

9am-3:30pm

Cost

$325

$520

6/20-6/24

9am-noon

9am-3:30pm

6/27-7/1

9am-noon

9am-3:30pm

7/11-7/15

9am-noon

9am-3:30pm 

7/18-7/22

9am-noon

9am-3:30pm

7/25-7/29

9am-noon

9am-3:30pm

8/1-8/5

9am-noon

9am-3:30pm

8/8-8/12

9am-noon

9am-3:30pm

8/15-8/19

9am-noon

9am-3:30pm

8/22-8/26

9am-noon

9am-3:30pm
Can't wait until summer? Check out our Junior Programs! We also offer Adult Clinics and look out for our summer schedule soon.
Advanced PLayers Clinics
for Boys & Girls, Ages 12-18
We will now be offering an advanced junior camp sector in the mornings from 9-12pm for kids ages 12-18 that our Tennis Director, Rena Shi will be running. Sign up below.  Call us at 301-530-5472 or email tennistar.rena@gmail.com to register or for information. Instruction is for current and future tournament players and high school tennis team members. All interested players must be approved by the TenniStar office.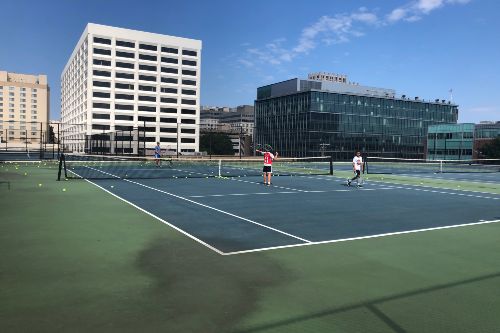 What your child should bring to camp:
Campers must bring their own racquet and facemask.
We also recommend they bring:
Water bottle
Comfortable, athletic clothes
Sunscreen and hat
Spending money for Clay Boys (shaved ice) day and pizza lunch Friday (for all-day campers)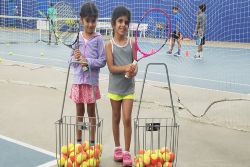 RaCQUet Stringing:
Need your racquet strung? Contact us at office@tennistar.com for details.